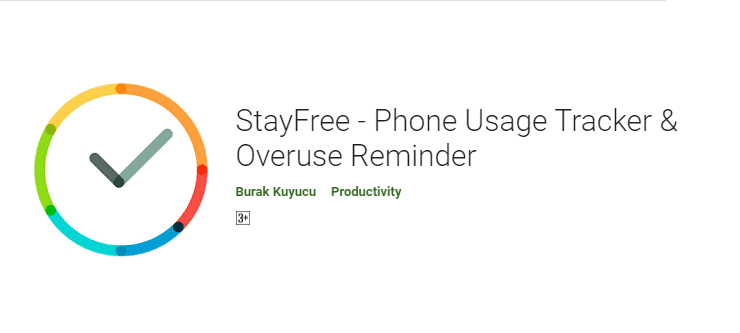 StayFree – Phone Usage Tracker & Overuse Reminder
StayFree is a visual and user-friendly Android application that allow you to show how much time you spend on your smartphone and your favorite apps. You can set usage limits for your apps and receive alerts when exceeding the usage limit. You can also view the details of your usage and statistics of your history.
Please Click On Here to download.
♢ What makes Stayfree special?

► Highest rated Self Control app
► Extremely user friendly interface
► Most accurate usage statics
► Quick customer support
► Battery friendly
► English / German / Spanish / French / Russian / Turkish Language Support
► Affordable prices

♢ How to use:

The StayFree has a really easy to use interface.
✔ On the main page, click the '+' button at the bottom right of the screen. And chose apps which you want to see your usage stats. Then click the button tic, at top right of the screen. Now, you are ready to see how much used your apps that day.
✔ Click your chosen apps on the main page to set alarms or view details of your usage statistics.
✔ On the alarms tab, you can edit or delete your alarms.
✔ On the history tab, you can view last 7 days usage stats. You can also export to CSV of your history in that tab.

♢ App's Features:

★ App usage history: you can view statistics of your history in chart.
★ Over-use reminder: notify when you spend on phone or apps for a long time.
★ Export mode: export your usage history to CSV or Microsoft Excel file.
★ Inspiring quotations: show inspiring quotations that encourage less use of your phone.
★ Interface customization: There are 5 themes and you can choose what you like. You can also change the time appearance.

♢ Premium Features:

★ Remove ads: no ads will be shown.
★ Block mode: block any application temporarily that is overused.
★ Lock mode: requires a password for changing the settings.
★ Widget : show most used apps and total usage on a nice widget.
★ Pie chart graph: view daily and monthly application usage percentages.

♢ PRIVACY

Your privacy is very important to us. All your data is kept on your phone, not on our servers. We want internet permission only to show ads and send notifications. Your time is the most private thing you have, and we intend for it to stand that way!

♢ YOU ARE IMPORTANT

StayFree is still very young. Therefore your support is very important to us. Please leave a commend whether you like StayFree. You can tell us what needs to be changed, we want to know this in order to improve ourselves.

♢ CONTACT US

We are always ready to take your feedback on board! If you run into any issue with the app or have suggestions what we can do better or any translation help, you can always reach us at : hello.stayfree@gmail.com

Keywords: StayFree, Stay Free, time screen, ios12, digital diet, social media addiction, keep me out, app usage, usage history , time limits, daily stats, say no to phone addiction, phone-life balance, weekly report, connect with real, self control, productivity, view daily usage, parental control, device usage alert, social media addiction, overuse reminder, track usage history, beat smartphone addiction, time management, simple, user friendly, battery friendly, most stabile usage tracker app
Please Click On Here to download.
Look at here for alternative applications