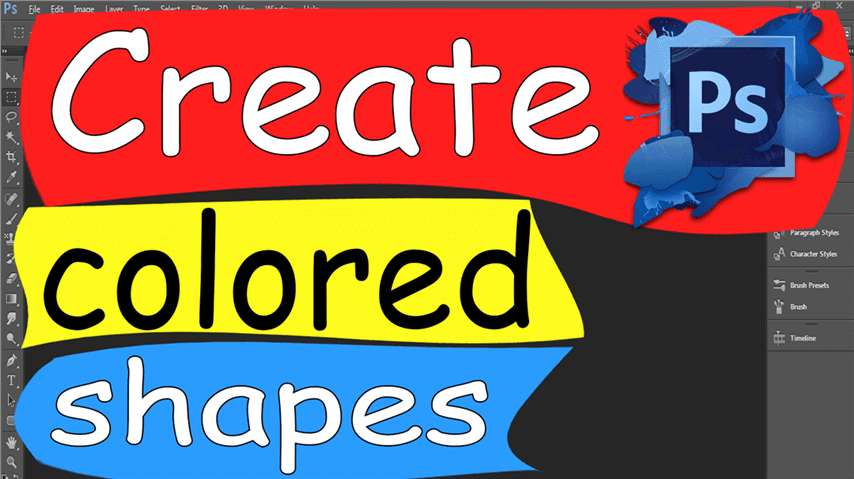 01 Photoshop – Easily Create colored shapes
Photoshop tutorial for beginer…
Especially, If you haven't knowledge about Photoshop, you are in the right place. As with almost any program, we first use the basic features and then we learn the detailed features. In a photo editor program full of gigantic features like PhotoShop, you should always start with simple and basic features. If you start with only high level features such as effects and brushes. It may be difficult to use for basic operations, and you don't have to try to learn, and you can be deprived of the incredibly superior features of Photoshop.
For example, I used to work on simple cropping, cutting, copying, etc. with paint shop pro. I used Photoshop only for special effects and filtering features. Over time, I noticed that even in the simplest cutting and copying process, the difference in picture quality is very obvious.
The complex appearance doesn't mislead you, the ease of use is incredible.So, even if it's simple, I started doing all the image editing operations with Photoshop. After a while, you will see that your keyboard-hand is as active as your mouse-hand and it's fast and practical to use.
In the photoshop video training series, I tried to show from the simplest operation such as opening a screen, how to click on the button and how long clicks should be done. I tried to do consecutive lessons like series movies.
I will try to add all the training titles I have planned. Although the main purpose is for beginners, I will also add educational videos on advanced use.
Thank you for watching..
If you have any suggestions or questions,requests please leave a  
. Thank you.